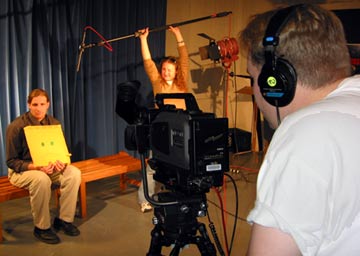 GLENDALE, CA -- Behind the scenes at DreamWorks Animation, Jim Beshears, Andrew Birch and Jonathan Phillips have created a support system strong enough to manage six feature-length animated projects at one time, including the soon-to-be released safari animal romp Madagascar.

"On the animation side, post production is a misnomer," says Beshears, who heads up DreamWorks Animation's post production operation. The term post production, he explains, is derived from live action, where sequentially someone prepares, shoots and edits a movie. Animation flips that sequence around. "Among the first people hired on any animation [project] is the editorial crew," declares Beshears. "Nothing goes into production until it's been edited first in storyboard form."

Beshears explains the process: The director and storyboard artists develop story ideas. Those concepts are converted into hundreds, sometimes thousands, of story drawings that illustrate the dramatic and comedic action of the story. Each one of those is scanned into the computer, a scratch track is built of temporary dialogue and sound effects, the editorial team then puts the pictures in order against the track and cuts it all together on the Avid Film Composer, as if it were a live action movie. That becomes the story reel.

The story reel keeps getting edited to the point where the director feels it's ready for production. Scenes are upgraded and replaced as the story reel goes through the various stages of production: rough layout, final layout, animatics and rendered scenes, until ultimately all the final animation is cut together. Post production people, notes Beshears, are the first ones on and the last ones off an animated feature.

Beshears says they are constantly improving their workflow. "It's a daily upgrade. If there's something we can do this Thursday to make next Thursday better, that's what we'll do. One of the things that helps us is that there's a whole new level of technology available every six or eight months. So when they make the chips faster, when they make the machines faster, when there's some new idea that comes along, we say, 'How can we use it? What can we do to integrate that? How can we keep ahead of the curve in general?'"

PROBLEM SOLVING

Birch, who oversees domestic post production, says Madagascar had a particular challenge that led to a real production innovation. The dilemma on Madagascar was that co-producer Teresa Cheng and director Eric Darnell were based at PDI/DreamWorks in Redwood City, CA, and co-producer Mireille Soria, director Tom McGrath and editor H. Lee Peterson were based in at DreamWorks Animation in Glendale, CA. Production was at PDI, editorial was in Glendale. They needed to come up with a slick way to keep both sides in touch with each other on an as-needed basis. So they reinvented teleconferencing.

One application consists of duplicate editing and conference rooms connected by an OC12 data line (150 to 600Mbps), making a space 400 miles away seems like the room next door. DreamWorks calls the solution VSC for Virtual Studio Collaboration.

Identical Avid suites in Glendale and Redwood City are equipped with dual 60-inch plasma screens. One screen displays the content that the editor is working on, the other provides a view of the editor as he works. "The director can see the timeline on the Avid," says Beshears. "If the director at PDI wants to run the Avid remotely, he can. We can also do the reverse: have someone up there can control the Avid down here."

Phillips, who oversees international post production, says the great thing about it is that it's not two different sets of media. The same files are accessed on both sides and the EDL is updated at each end.

In another feat of DreamWorks' ingenuity, two separate conference rooms hundreds of miles away have been turned into one large meeting space. Rear-projected material covers two entire walls, one in PDI and one in Glendale. HD cameras poking out the center send reciprocal feeds to the digital projectors in realtime, displaying life-size images and creating the mirage of a single environment. "We needed to have it high definition so you could get some resolution out of it," says Beshears.

"One of the things we need to do is make pitches from the storyboards," he continues. "You get a pointer and someone stands there, and there's a lot of physicality involved as a presenter. We needed to have a way that Jeffrey [Katzenberg, DreamWorks co-founder] could sit here, somebody could be at PDI and be able to capture the energy of the presenter as well as the material on the board."

One of the problems with video teleconferencing, he says, is that it can be tedious and fatiguing. "Someone can't speak on one side while the other side is speaking. Jeffrey said we needed to solve those problems."

CROSS-SITE DAILIES

Another aspect of their workflow, says Birch, is cross-site dailies, based on proprietary DreamWorks technology. Once the artist is finished with a shot, it gets rendered as footage into a directory. In duplicate digital theaters both production teams can watch that footage concurrently, in realtime, and be in voice contact with each other.

"We can be watching dailies and PDI can be driving those dailies and shuttling back and forth through them, and the director can be making notes," Birch explains.

Beshears and his team are currently managing six productions: Madagascar, Over The Hedge, Flushed Away, Shrek 3, Bee Movie and one project that's still hush-hush. This is the most intense animation production cycle the studio has ever embarked on.

"There are two shows that have layout and animation in them," says Birch, "and another show that's pretty close behind. We'll be starting to see a layout in the next couple of months."

At press time, DreamWorks publicity was building a buzz for the movie by screening the first 40 minutes of Madagascar around town from a D-5 master and a 2K projector.

"There has been a definite transition in the past couple of years," says Birch. Sinbad, he says, was one of the last movies that relied heavily on film. They weren't screening HD dailies; all the shots were output to film. Six assistant editors were constantly updating work prints. Their post system went from that film-centric world to outputting files on a DDR, then importing and conforming scenes on the Avid DS Nitris.

Shrek 2, recalls Beshears, was pretty much a benchmark. As a studio, he says, DreamWorks moved out of the 2D animation world and exclusively into the 3D animation world. It was a milestone for their development process, workflow and deliverables where they turned the corner and worked totally in the digital domain

"Even the previews and presentations we do now are all in the digital world," declares Beshears. "A lot of the reason for that, to be honest, is the advent of digital projectors. Once they achieved a certain quality and became readily available, that allowed us to go live in this world. It's much easier to put an animated movie through a digital projector than a film projector."

One example, he says, was using a digital projector for the premiere of Shark Tale in Venice, Italy.

"We went to the Piazza San Marco," describes Beshears excitedly. "We had this 85-by-60-foot screen--designed in Germany, built in Milan--and it was inflatable. We blew it up and put it at one end of the piazza. We took two 2K digital projectors and overlaid the images pixel to pixel and showed that to 6,000 people sitting in the piazza." DreamWorks wanted to give the audience the option to listen to the movie either in English or Italian. So they acquired a couple of FM frequencies and issued everyone a little receiver and a set of headphones so they could select whether to hear it in English or Italian. They also subtitled the film in Italian.

In their new workflow, animation projects at DreamWorks stay in the digital world until the last eight weeks prior to release. That's when they start moving into the photochemical world to make film prints. "At this point," he says, slightly amazed, "We're at March 21 and we don't have Madagascar on film yet." The film opens May 27.