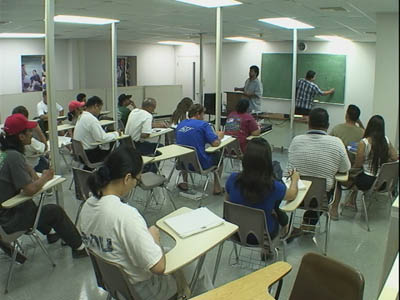 P(l)ain Truth (1993), Ilppo Pohjola's film about transgender metamorphosis, runs just 15 minutes, but it collages enough smart allusions to the history of movies, high and low, to send a cineaste into overdrive and to leaven the emotionalism that might otherwise suffuse a dramatization of the plight of being trapped in a wrong-gendered body. The spinning hospital bed on which the curvy she morphs into a hairy he conjures a catalogue of horror transmutations--Jekyll and Hyde, Frankenstein's monster, werewolves--along with the current inclination to decode that particular film genre in terms of a queer subtext. The speeded-up opening sequence with hands frantically removing a man's jacket and shirt exposes not the bright red S on Superman's jersey (to invoke pop culture's ur-paradigm of closeted identity) but a pair of telltale female breasts. When Pohjola's post-op protagonist unwinds the surgical bandages (a clever reversal of the action with which she bound her breasts earlier), you fleetingly recall Claude Rains's moment of shocking disclosure in The invisible Man while on your way to contemplating the unencumbered chest of the new Visible Man.
The associations proliferate. A theatrically surreal bit of backstory that shows a left-handed little girl punished for her manual deviance by a smooth-cheeked schoolmaster--not to mention a shattered mirror that cascades like water-surely would have drawn a nod of approval from Cocteau. And when the main character makes two forays into the outside world, once to test an attempt at cross-dressing and again following surgery, the film's point of view briefly switches to the first person, shifting from color to grainy black and white, vignetted and obscured by a streaming pattern, as if to evoke the "alienated" perspective of sci-fi film sequences shot through the watchful eyes of the extraterrestrial Other among us.
The Helsinki-based Pohjola made his U.S. gallery debut last fall at New York's Klemens Gasser & Tanja Grunert with projections of P(l)ain Truth and Routemaster--Theatre of the Motor (1999), a 17-minute, eye-jamming, ear-scorching exercise in sensory overload that manipulates footage from stock-car racing and automobile crash tests involving cadavers. At once techno-cerebral and damp with testosterone, Routemaster walks a different walk. But both works are disciplined demonstrations of filmmaking's array of formal correlatives for extremes of human experience and perception. And both rely on the mutual support of image and audio--musical and otherwise--while excluding the spoken word.
For the soundtrack of P(l)ain Truth, Glenn Branca's nerve-jangling "Symphony No. 6, Fifth Movement, Devil Choirs at the Gates of Heaven" gives voice to the protagonist's self-loathing, the implacable strangeness of her circumstances, her mounting desperation. A tender, hesitant, Satie-like passage from Roger Eno's "A Place in the Wilderness" accompanies the character's rebirth and baptismal swim in a public pool on the night reserved for men. Two jolting samples from the early '90s industrial-metal pioneers Ministry caffeinate the titles. Sonically more feral, Routemaster incorporates music by Merzbow, NON and Wieslaw Pogorzelski, and exists in three audio versions--an original live-music San Francisco Mix, a London Dance Mix and a Tokyo Noise Mix (they were projected successively at Gasser & Grunert)--though the overwhelming element in all is the electronically engineered roar that connotes the utter derangement of unbridled mechanical speed.
An award-winning regular at international film festivals for over a decade, the 46-year-old Pohjola has screened his work in more than three dozen countries. During that time, the "art film" became simply "art," and the Tate joined Telluride on his resume. His training in London included photography and graphics, though he concentrated in filmmaking and theory. During the 1980s, Pohjola's work centered on photography, photo books and slide-based projects, including projections with live music in clubs and galleries. That interest in sight-and-sound works and the immediacy of audience experience led him in 2000 to produce Routemaster as a multimedia performance event with live music in San Francisco, Tokyo and Helsinki.
Part of a florescence of Finnish film and video artists that includes Eija-Liisa Ahtila [see A.i.A., Oct. '02], whose work he has produced since 1993, and Salla Tykka, Pohjola timed the New York exhibition to loosely coincide with the DVD release of his four films of the 1990s: the pair shown at Gasser & Grunert; Daddy and the Mastic Academy: The Art, Life and Times of Tom of Finland (1991), a documentary about the Vargas of leatherboys who died shortly after the film's completion; and Asphalto: An Aria for 13 Demolition Derby Curs & Girls & Gas Stations (1998). Bridging the artist's interest in gender stereotypes and the erotics of the auto, Asphalto shuffles footage of cars pointlessly hammering each other to a metal pulp, glimpses of roadmaps of Finland, clips of models voguing like calendar pinups in peekaboo latex shorts and jumpsuits bearing oil company logos, shots of vintage service stations and moments with an unhappy young couple in acute relationship distress. The recitation of some vet3' lame verses by Harry Gamboa Jr. (i.e., "There's asphalt up your ass") makes you appreciate the verbal abstinence of the other films.
A virtual parade of film conventions and familiar dramatic devices, P(l)ain Truth is a study in emotional distancing even as it dares you to be engaged. Pohjola marshals narrative and referential fragments that verge on cliche (snapshots from the standard girlhood which we know to have been a confusing charade; tightly framed close-ups of the young woman's desperate-diva eyes and lipstick-rimmed mouth; the ancient gender symbols adopted by gay, lesbian and transgender communities) and uses them like so much visual shorthand necessitated by the self-imposed compression of time.
The despair-to-deliverance arc is abbreviated, episodic, like the best music videos, yet nonetheless affecting. Recurring floral imagery does triple duty, shuttling between outright banality (symbolic "blossoming"), pretty formalism (four-corner flower patterns that turn the screen into an Easter card) and unexpected visual analogy (the silhouette of a final bouquet tossed into the water recalls the aureole of blood that surrounds a newborn in an intercut birth scene). The scrolling text of a questionnaire administered to transgender surgery applicants may descend from early films' use of fluttering calendar pages and zooming tabloid headlines, but its harrowing enumeration of procedures (psychiatric evaluation, male hormones, plastic surgery, breast amputation, penis reconstruction, birth certificate) efficiently renders a personal Calvary of bureaucracy and mutilation.
Routemaster, by comparison, is stripped down, souped up and tough as nails. In New York, the work was projected on four panels covered with the reflective metal used for traffic signs; the surface seemed slick with sweat and bounced back a hostile dose of glare. For raw footage, Pohjola shot a Helsinki stack-car race using high-speed black-and-white Super-8 film to maximize grain. The footage was compressed into 35mm and digitized for editing and projection. Propelling the split screen to new extremes, Pohjola relentlessly subdivides the field and rapidly multiplies the racing cars. Machines accelerate, the near-deafening audio intensifies, and the rate of image replication reaches viral speeds, spawning a climactic mosaic of more than 2,200 constituent frames.
When discussing Routemaster, Pohjola refers to the antinarrative practices of structuralist film and cites the inspiration of Paul Virilio's writings on "dromology," acrobatic portrayals of a modern and contemporary culture that is besotted with and harried by speed, deprived of clarity and concentration, susceptible to totalitarian manipulation. If speed is handmaiden to fascism, it's appropriate that Routemaster seems to be the demonic heir to the Futurists' intoxication with velocita, particularly in the sheer formal resemblance between Pohjola's fragmented screen and the abstract patterns of Giacomo Balla's "Iridescent Interpenetration" paintings of the early 1910s. Within commercial film history, Routemaster's unlikely forebear is John Prankenheimer's Grand Prix (1966), an otherwise elephantine paean to Formula One racing whose first 20 minutes (an eternity in popular movies and roughly equivalent to the running time of a freestanding short film) is an almost dialogue-free plunge into the Monte Carlo classic, with split-screen montages of cars and cockpits, tools and loudspeakers, accompanied by the incessant noise of engines growling, revving, straining