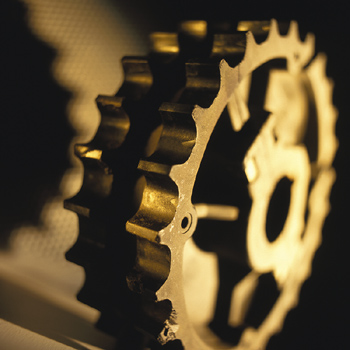 NEW YORK -- Harold Moss, creative director/owner at FlickerLab, has built an impressive reel over four years, working in animation and design for broadcast, TV series, film and commercials.
Recently, FlickerLab (www.flickerlab.com) has been producing a string of distinctive show opens and graphics packages. Among them, is the new A & E British crime series With Malice. For Bravo, FlickerLab designed the full graphics packages for Celebrity Poker Showdown and the upcoming reality TV show about relationships, Things I Hate About You. From visuals that chill with criminal intent, to the glitz of Las Vegas, Moss's provocative designs evoke a range of editorial content. In fact, Moss's reel demonstrates vivid storytelling abilities, relaying the crux of a program or a :30 spot with a blend of wit and an off-beat graphic sensibility. His significant editorial work for Bravo, A & E, Discovery, Disney and others, has attracted the attention of agency creatives. Moss has collaborated on campaigns for Continental Airlines, Macy's, Tylenol and more.
Another notable project for Moss was the three-minute sequence, "A Brief History of the USA" in Michael Moore's Academy Award-winning Bowling for Columbine.
This run of work may be due to what Moss describes as "keeping a human element in the process." He considers that, "The heart of FlickerLab is storytelling. Although we work with digital technology, we like to leave the analog noise in, conceptually. If I were to define the FlickerLab style, our specialty is retaining that hand-made quality, that human feel, that's a little less than shiny."
[ILLUSTRATION OMITTED]
SPACE, GEAR, WORKFLOW
Housed in a 2,500-square-foot loft in the heart of NYC's garment center, now digital terrain, FlickerLab has a young, enthusiastic group of designers and animators. With 10 workstations, FlickerLab uses both Mac and Windows operating systems, running all the usual suspects: After Effects, Illustrator, Photoshop, Flash, Final Cut Pro, and 3D Studio Max.
However, Moss emphasizes, "Now, more than ever, it's not about the technology. With regard to design and storytelling, it's all about a unique creative vision."
FlickerLab is outfitted with a wide range of video formats, including Digi Beta, Beta SP, DV and DVD. Onlining in-house is done to Digi Beta using Apple Final Cut Pro on a Dual 2GHz Power Mac G5 with an Aurora Video Systems lgniter X uncompressed card. But, in most cases these days, says Moss, "Nothing ends up on tape."
[ILLUSTRATION OMITTED]
The company norm is becoming delivery via a customized and secure ftp site. "Clients love the flexibility," says Moss. "They can give us a call and have a new element in a session anywhere 10 minutes later. It's a great way to work." Further, says Moss, "We create a Web page for each client to see work as we progress during production. In fact, clients rarely need to work onsite."
THE HISTORY
Flickerlab took shape when Moss left Kirshenbaum & Bond, where he worked for five years directly after college--he was a film major. His focus on computer graphics burgeoned into building the agency's digital print production department, which evolved into the agency's nonlinear editing and digital animation studio.
Moss went on to design and animate projects for Showtime, Martini & Rossi, Sesame Street, NBA, Nickelodeon and others. Then, he was brought in as animation director for a series on Saturday Night Live featuring the work of the comic strip, "This Modern World by Tom Tomorrow." Although never aired, he began a longtime collaboration with Tom Tomorrow, which continues.
Based on the strip, the two co-created an animated weekly series of 40 Webisodes, distributed online by Mondo Media. Formerly working solo under the name Toolbox Animation, Moss realized he had a business bigger than himself and he opened FlickerLab.
THE PROJECTS
FlickerLab has had two animated pilots on Cartoon Network's Adult Swim (Saddle Rash, The Finkel Files) and moves further into content creation for TV with an animated pilot based on Roy D. Mercer's Virtual Double-Wide, a popular radio series featuring a redneck's wacky points-of-view, in conjunction with Waterworks Pictures, a New York production company.
Amidst ongoing TV and commercial projects, Moss will animate the work of world-renowned Tokyo-based artist Yoshitomo Nara for a documentary currently in production on the human rights of children, Welcome to the Playground, which is being directed by Libby Spears.
And, the FlickerLab band Paranoid Kitchen is in formation. Moss, who plays guitar, also composed the music for the A & E With Malice title sequence, taking advantage of an on-site sound studio, helmed by friend and colleague Tom Lino.
As animation expands with new technologies, what's next according to Moss?" A hot issue in animation right now is the current love of 3D." Moss reflects. "I would say that just as photography didn't eliminate painting, 3D will not replace 2D. We should not be allowing technology to determine the look of what we do. Instead, we should use technology to realize our creative vision more closely."
Moss knows of what he speaks. On the FlickerLab Web site is a detailed FAQ section on how to use Flash for broadcast, prepared at the request of Macromedia, the creators of Flash technology. Moss reports hits of about 200 a week, and says, "I drew on my experience with Flash for the Internet, broadcast and film projects to fill in a lot of holes. It's a service to the Flash community."
After all, Moss comments, "Animation is an inherently collaborative art form. There's a joy in creating things that engage people." Some might say, it shows.