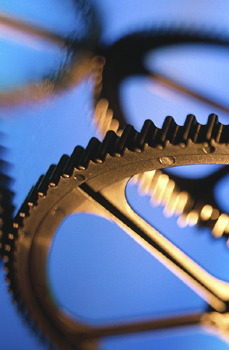 SCOTT LYLE COHEN: You've been working in the movies for a few years, mostly in BBC literary dramas and English period films like Daniel Deronda, Nicholas Nickleby [both 2002], and I Capture the Castle. Now you're co-starring opposite Diego Luna in the new movie Dirty Dancing: Havana Nights, a loose remake of the 1987 picture starring Patrick Swayze and Jennifer Grey. How did you get started acting?
ROMOLA GARAI: As a child growing up in the English West Country, near Wales, I performed in school plays and in speech and drama festivals. I was encouraged by my mum--we used to go to the theater a great deal together. When I was 14, I came to London to do a summer season with the National Youth Theatre. Then, when I was 17, a casting director approached me about a tiny part in a TV film called The Last of the Blonde Bombshells [2000]. It was only a couple of days off school and I'd get paid a bit of money, so I said okay. Afterwards she said, "If you'd be interested in having a career in this, you should get an agent." So, I got an agent, and rye been working ever since.
SLC: The makers of Dirty Dancing: Havana Nights don't call it a sequel or a remake, but a reimagining. What's it about?
RG: It's set in Cuba in 1958, during the [Communist] revolution, and it's predominantly about the political and social situation of the people who live there and the American expats. My character, Katey, is an American of privileged upbringing who's in Cuba because her father works for an American corporation out there. She meets a Cuban guy named Javier [Diego Luna], who is in a very difficult situation, as a lot of Cubans were at that time because of [former dictator Fulgencio] Batista's regime. Katey decides to help Javier by entering a dance competition with him; the prize, if they win, is that he receives a ticket to America. That they enter this competition together is a fact she keeps secret from her parents, who disapprove of their relationship. They fall in love, and then, as history tells, the revolution kind of got in the way.
SLC: What sort of dance training did you undergo in preparation for the role?
RG: The filmmakers took Diego and I to Puerto Rico nine weeks before we started shooting and taught us how to dance [laughs], as neither of us was a trained dancer. We trained four hours in the morning and four and a half in the afternoon.
SLC: What sorts of styles? Ballroom? Salsa?
RG: My character does a sort of white interpretation of Latin ballroom. It's much more formal and much less sexy. And Javier's dancing is at the opposite end of the spectrum--the real down-and-dirty Afro-Cuban dancing. But we each had to learn both styles because they come together in the film's final number.
SLC: Is this the "Nobody puts Baby in a corner!" grand finale?
RG: [laughs] Exactly.
SLC: Did you enjoy all that training?
RG: I can't begin to tell you how much I loved it. I've never used my body in that way, and I don't come from a culture that does. I was in this hot, tropical country, and we rehearsed in a studio on the top of a building. There'd be days when it rained that wet, hot, tropical rain for hours, and it would hammer away at the tin roof so loudly we couldn't hear each other speak--we would just dance without talking. It was glorious.
SLC: And how did it feel to leave the literary and period dramas behind and take on the role of a more or less modern girl?
RG: I loved the change. It was wonderful to do something which I felt I could be funny in, and which explored a different side of my personality. I'm only 21, and a lot of the roles I've played are adult roles, so it was fun to do something that represented the part of me that's still a teenager.
SLC: Did you feel any pressure remaking a film that was only 17 years old, recent enough, certainly, to still be a part of the public consciousness?
RG: Absolutely. I loved Dirty Dancing as much as anybody I watched it all the time. In a way, this is probably the only job I've ever done where I've felt like a member of the public. As a fan I can imagine somebody bringing out a sequel to Dirty Dancing and me going, "God, I wonder what it's going to be like," and going to see it.
SLC: You say that with a skeptical tone.
RG: Well, there is an element of "If something's perfect, why remake it?" But I think Havana Nights is a good movie. I'm quite proud of it.
SLC: Now, soon after you wrapped, you found yourself right back in corsets, making Vanity Fair opposite Reese Witherspoon.
RG: [laughs] That's right. Mira Nair directed, and she was utterly brilliant. She has the extraordinary capacity to push you as a performer, and yet never make you feel as if you should be afraid to experiment.
SLC: Had you ever worked with a female director before?
RG: Once, when I did a TV show. It was maybe three weeks' work. I have to say, I really enjoyed the experience [with Nair]--not necessarily because I think female directors have an innately different style, but maybe because I'm a woman, I find that conversation and finding a common ground are easier.
SLC: Had you read William Makepeace Thackeray's novel Vanity Fair before you made the film?
RG: Yes, I had.
SLC: And Dickens's Nicholas Nickleby and Dodie Smith's I Capture the Castle before you made the recent films of those books?
RG: Mm-hmm.
SLC: Do you find it's helpful to be familiar with a book before filming an adaptation of it? Is reading a big part of your research in general?
RG: I try to be guided by the director as much as possible and go with what they feel is important for me. Nine times out of ten I think directors don't want you to do too much reading of the [source] material because we're not filming the novel, we're filming a script. But I think it's important to read so you have some idea of what the origins of the character are. It differs from project to project, really.
SLC: What's this moment like, as things are about to break and anything's possible?
RG: I suppose it's important not because of what is about to happen, but because of what has happened in terms of looking back at the last year and thinking about what I've learned. What's about to happen in terms of the critical and public attention for the films is obviously daunting, and exciting, but I don't feel like I'm going to grow, learn, or change because of it.
SLC: So, what keeps you busy during your spare time?
RG: I cook a lot. I love to bake. There's something about the preciseness of it, the way you have to be absorbed in it, that has a therapeutic quality. It shuts off your mind to other things. I love to travel as well.
My parents spent a lot of time abroad, living in places like Korea, Hong Kong, and Singapore, and they've found it invaluable to defer to another person's culture. To be the outsider for a period of time changes you for the better. It shakes up your comfort level. You have to really make an effort to enter into other people's culture and psychology and language, which the British are very bad at doing.
SLC: We're even worse here in the States. Remember, our president had been off the North American continent only three times before he was in office.
RG: [laughs] You know what I mean, then.
SLC: Between the baking and the outsider's approach to travel, it seems as if you're looking for a bit of discipline. Are you?
RG: I think I'm looking for stability rather than discipline. My professional life isn't very conducive to a feeling of stability.
SLC: What's next for you?
RG: I just finished a film called Inside I'm Dancing, and I'm doing a play called Calico, which is going to be on in London's West End from February through May. I play James Joyce's daughter, Lucia. It's set in Paris in the 1920s, and it's about Lucia's gradual mental decline. She has a love affair with Samuel Beckett, who was her father's secretary at the time.
SLC: Are you still dancing?
RG: In the pub, pissed, on a Friday night. [laughs] I can be persuaded at any opportunity to break into salsa dancing. Believe me, my friends are utterly bored of it. They were all wowed the first time they saw what I'd learned, but by the fifth time, the twentieth time, they were like, "Yeah, Rom. Wicked. Can you stop now?" ]laughs] They're like, "We don't want to see your film now--we've seen quite enough of you dancing."