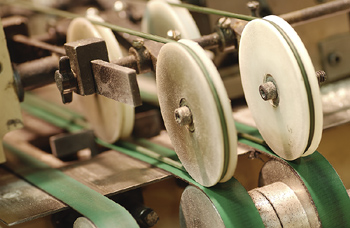 Minn. Post House Gears Up For High Definition.

MINNEAPOLIS - In deciding to open their company, the founders of Minneapolis full-service postproduction facility Hi-Wire were guided by a bit of conventional wisdom: If you want something done right, do it yourself.

Thus, Minneapolis post community vets Marilyn Timmsen-Aden, Larry Sexton and Keith Pokorny launched Hi-Wire, which offers online and offline editing, graphics design, visual effects, telecine, audio post, music and sound design.

Hi-Wire, which technically opened for business in Nov. '98, is billed as being the only Minnesota post house now able to transfer film in high-definition. In fact, the company is positioning itself as a hi-def facility, having invested in a Philips Spirit Datacine and a daVinci 2K for color correction, a Fire HD and 5.1 audio gearable to mix back to D5.

In addition to cutting edge technology, Hi-Wire has also sought out top-level talent - for instance, Eric Pilhofer, who merged his own 10-year-old audio post/music and sound design shop, Eric Pilhofer & Co., into Hi-Wire in mid-August. Pilhofer is now supervising construction on what promises to be a state-of-the-art studio/control room, as well as preparing to begin work on spots for Red Wing Shoe Co. via Minneapolis-based agency Initio, and a client-direct job for Perkins restaurants.

"It really opened my eyes when I came into the facility and saw what they were doing," said Pilhofer, who formerly worked through Pilhofer 2 (with his father, Herb) for almost a decade before launching Eric Pilhofer & Co. "The whole [Hi-Wire] studio is geared for HDTV. By the merger, I saw the ability to catapult us both into the next 10 years. ... Rather than looking at what had been done, we're looking towards what can be done, which I've always found to be exciting."

As Hi-Wire president Timmsen-Aden explained, their threefold mission is to offer great talent, the best technical tools as well as superb customer service. Sexton serves as Hi-Wire's technical director/Fire artist, and Pokorny is the company's general manager.

Timmsen-Aden previously spent five years in sales and marketing at Juntenen Video, Minneapolis, where she worked with Sexton, a former six-year employee of Juntenen, who served as manager of the graphics department and as an online editor. "We'd talked about opening up our own post facility for a long time," said Timmsen-Aden. "We did a lot of market research [and] talked to a lot of agencies and corporate clients about what was missing in this town. Frankly, it was the high-end post facility, and people were going out of town for that."

"This market wasn't progressive enough," added Sexton. "Clients wanted something cutting-edge and this market would do things when asked, rather than lead the clients. We wanted a facility that would lead and educate our clients." After determining they had the clients and the financial wherewithal to make a go of it, Timmsen-Aden and Sexton recruited Pokorny, who had spent the past nine years as VP of sales and marketing at Tele-Edit, Minneapolis.

In scouting nationally for post talent, Timmsen-Aden related, they wanted not just ability but the right personality - people whom "you wouldn't mind spending eight hours in a room with."

This includes senior colorist Oscar Oboza, who joined the company in April after seven years at Chicago-based Cutters. Oboza operates the Spirit and the daVinci 2K.

Among Oboza's notable credits is a high-def spot for Best Buy, "Find 'Era First," via Best Buy's in-house agency. Directed by David Moe of Setterholm Productions, Minneapolis, the spot was slated to debut on the MTV Video Music Awards before airing in-stores starting in late September. He also transferred Minnesota Moments," a high-def program for local Minneapolis station KTCA-TV, that's set to debut this week (9/16).

Another key player is special effects designer Cassie Scroggins, who came in May after a six-year stint at Chicago-based Skyview Studios. Scroggins operates the Inferno which runs on an Onyx2 platform. (At Skyview, she worked on Inferno, Flame, Flint and DFX's Composium.) She is paired with Mac graphics/3D artist Chris Evans, who formerly ran his own Minneapolis studio, React. The two comprise Hi-Wire's design team.

In addition to Sexton, who online edits on the Onyx 2-powered Fire, Hi-Wire also offers uncompressed 601 linear editing via its two online editing suites run by editors Bob Rossborough, recruited from CNN, Atlanta; and Mark Welbig, drawn from Tele-Edit. Presently, Sexton also provides offline editing on the Avid Media Composer 9000. Timmsen-Aden related that the shop is looking to hire another creative editor.

Among Hi-Wire's recent editing assignments were three spots, "Anthem," "Tag" and "Track," for the University of Minnesota Gophers football team via Fallon McElligott, Minneapolis, directed by Jerry Pope, Two Popes, Minneapolis; and the in-flight videos for Northwest Airlines Entertainment Network.

Hi-Wire is rounded out by postproduction producer Amy Malek, a former producer at Campbell Mithun Esty, Minneapolis, and scheduler Tracie Evans, who came over from Santa Monica-based effects house Riot.

Besides Hi-Wire's professional capabilities, Timmsen-Aden is proud of the amenities it provides - among them, in-house chef Kristine Szczech, who prepares daily gourmet lunches for staff and clients; and the spa services offered via the Horst salon next door. "My idea was to build a post house that really services people," said Timmsen-Aden, "so they're taken care of and feel we appreciate their business. Hopefully we're relieving their stress."