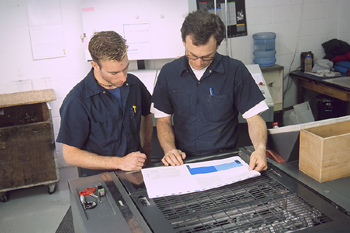 The figures are in. If anything, they are a testament to the fact that the commercial production business is more unpredictable than ever. Gone is the seasonality of many moons ago, when production company executives could generally figure on certain summer months being slow and other stretches being fast-paced. For example, when automotive season came around, car advertisers were out in full force. And remember when spotmakers were scurrying to accommodate an ad blitz timed to the debut of primetime programs for the networks' new fall season?

Another relic of yesteryear would appear to be corresponding trends in filming activity for the State of California and Greater Los Angeles. It used to be that if L.A. figures were up in terms of permit issuance and shooting days (outside studio lots), then the state tally would be up as well. The latest results, covering much of calendar year '99 as compared to the same period in '98, show a 'downturn in permits issued by the California Film Commission (CFC) for state-owned property. But a hike in spot filming was reported by the joint Los Angeles City/County Film Office, which is under the aegis of the Entertainment Industry Development Corporation (EIDC), the private/public sector partnership promoting economic growth.

The CFC reports that there were 353 filming permits issued for commercials during the first nine and a half months of 1999, representing 502 shoot days. During the same months in '98, the CFC registered 377 permits and 597 shoot days.

For January through September of '99, the EIDC tally was 5,188 spot shoot days, a 9.6 percent increase over the same period in '98 which accounted for 4,735 days. Spots were the only major category to show an increase in shoot days in Greater Los Angeles. By contrast, features were down 12.7 percent in '99 as compared to '98, and TV lensing dipped 9.7 percent. The surge in commercial momentum was best evidenced in the month of September, when filming levels for spots in Los Angeles City and County jumped a whopping 81 percent, as compared to September '98.

Still, the growth in September needs to be taken with a grain of salt. "The fact is that September last year was a dismal month for commercials," relates EIDC president Cody Cluff. "Actually, commercial production has been erratic for the past year and a half. It's hard to know what to expect from month to month. You have long doldrums and then out of nowhere a big spurt. Thankfully, '99 has been more consistently strong than last year."

But unpredictability figures to continue in the spot arena. "In the long term, commercial production could undergo transition," Cluff says, citing new television technologies such as TiVo, a personal video recorder that uses a hard disk drive to store video, allowing viewers to select from diverse menus and to eliminate unwanted elements - including commercials. "I think you'll see production companies adjusting, diversifying into other areas and being involved in new forms of advertising. Advertisers are starting to look at new models, but no one is quite sure what exactly will emerge."

Cluff also serves as first vice chairman of Film US, a group of film commissioners who are looking to meaningfully address the runaway issue. He notes that Los Angeles has lost a significant number of TV movies to Canada and that spots too are traveling elsewhere, due to such factors as favorable exchange rates in Canada as well as the talent buyout option that advertisers can realize in some foreign countries (thus saving money by bypassing the actors' residuals system in the U.S.). Canada also has been able to attract spots involving kid performers because youngsters are available for more daily on-camera time in locales such as Toronto and Vancouver, B.C., whereas child labor laws are more stringent in California.

While Film US lobbies for solutions such as the formation of a federal film commission and legislative action (i.e. tax breaks to help counteract incentive packages being offered in Canada), Cluff says the EIDCs immediate anti-runaway plan is simply to better serve the industry. On that front, the EIDC is in the process of developing a sophisticated online film permitting system. The EIDC has linked with Irvine, Calif.-based Litronic, which is known for its security access systems employed by the defense industry. The company is working with the EIDC to fine tune technology that will facilitate safe, streamlined film permitting transactions over the Internet.

Cluff reports that the L.A. City/County Film Office is currently using the system internally. "You always need ample time to work out bugs before rolling it out for the industry at large to use," he says, estimating that the online permitting system will be fully up and running for public usage "before next summer, hopefully late spring."

Cluff reasons that online permitting bodes well for the commercial community in particular. "The time crunch is so great in commercials," he says. "To be able to get online anytime of day or night and reserve locations well in advance for use should prove valuable. Commercial producers who need beaches, for example, can go online and reserve popular locations. Rather than waiting for a [film office] coordinator to answer questions, information can be obtained immediately [online], such as 'What are the guidelines for filming in a certain area? Will other productions be in that area at that time? Has that house been used for filming before?' It's a way that we can be even more immediate and responsive to the filmmaking industry."