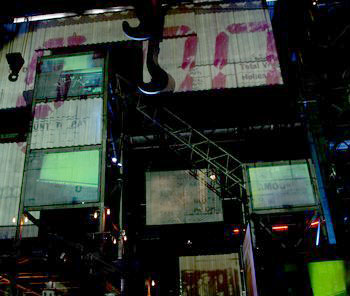 Despite a bump in local production for the last half of 2002, there is lingering doubt that next year will bring Hollywood filming back to the boom days of the late '90s.

The rise in filming has been tempered by smaller budgets and uncertainty about the economy. Times remain tough at giants like Walt Disney Co., AOL Time Warner Inc. and Vivendi Universal, all of which are expected to be under tight fiscal restraints next year.

Even with an anticipated rise in the number of television productions in the first half of 2003, budget limits likely will lead to ever-tighter margins for the vendors and creative companies that service the industry.

"It seems like every time you turn around there's a new cable network out there, and they all need programming," said Dan Snow, operations manager for Media City Sound in Studio City. "(But) what I am noticing a lot is that budgets are being cut on these shows, which has an effect right on down the line."

Since peaking at 33,328 days in 1997, location shooting in Los Angeles declined each year through 2001, according to the Entertainment Industry Development Corp., which issues film permits in Los Angeles County. (A shooting day is a permit issued for a particular project on a specific date).

Thanks largely to big-budget features that stayed in town this fall like Warner Bros.' "Terminator 3: Rise of the Machines," 20th Century Fox's "Daredevil" and Paramount Pictures' "The Italian Job," location shooting was on pace to reach 28,332 days this year, a three percent gain over 2001.

Last year was an anomaly, however, due to a rush to production in advance of anticipated strikes by actors and writers, which never happened, and disruptions caused by the Sept. 11, 2001 terrorist attacks. Compared to five years ago, location shooting in Los Angeles will be down about 15 percent this year.

Analyst Hal Vogel of Vogel Capital Management said he doesn't anticipate a boost in overall production in 2003.

"Everybody's tight right now. I'm quite pessimistic about any upturn until 2004 because of the weak economy," Vogel said. "On an interim basis, you can't argue with the uptick, but I don't think it will last."

Fingers crossed

A month-to-month analysis of location filming in 2002--including movies, television, music video and television commercials--shows a steep drop in production during the first hail of the year, followed by sizable gains each month between July and November.

Five consecutive months of favorable numbers had spurred some optimism that production levels might soon return to late 1990s levels. But the numbers are measured against one of the slowest periods in a decade, the months immediately following 9/11.

In November, for example, there were 2,267 shooting days, up 51 percent from a year ago. Discounting 2001, however, November's total was the lowest since 1995.

The late-year activity did add about 6,000 payroll jobs and many other non-payroll jobs during the latter half of 2002, balancing out losses from the previous 12 to 18 months and helping lower the county unemployment rate, according to the UCLA Anderson Forecast. The forecast anticipates more job growth in the local entertainment industry in 2003 and concludes that the business is healthy despite some job loss from runaway production.

But Tom Lieser, senior economist with the Anderson Forecast, said entertainment job growth would be in areas like the management of intellectual property assets, as opposed to production.

"This is a high-cost location for all kinds of production work and there is a general feeling that local industry has more long-term competition than it used to," Lieser said. "But it's still a growing industry, which is good for the long term."

Those directly involved in local production are taking a wait-and-see approach to 2003.

"We really depend on production. If there is shooting going, we sell. If there is no shooting going on we don't sell," said Sig Guzman, operations manager for North Hollywood-based Backstage Equipment, a manufacturer of dollies, carts and other filming equipment. "We were down prior to 9/11, then 9/11 came and everything went to hell. It finally started picking up this year but it's still not back to normal yet."

Guzman estimated his sales were down 30 percent from two years ago. "I have to be optimistic about 2003, I have no choice," he said.

Mark Rosenthal, owner of two production-related businesses, Raleigh Studios and Hollywood Rentals, is "keeping his fingers crossed" that what's in the pipeline stays in Los Angeles.

"It looks like there's a fair amount on the books for 2003, and we have a number of holds on stages," he said. "It looks good, but they could come back next year and decide they are going to Canada or somewhere else."

Despite steep stock losses this year by many of the major entertainment companies (last week, Disney, AOL Time Warner and Vivendi, for example, were down 21 percent, 55 percent and 69 percent respectively year-to-date), Americans' appetite for new movies is as voracious as ever. Box office this year has already surpassed last year's record $8.35 billion take and could hit $9 billion with a strong. holiday season, according to Exhibitor Relations Co.

And some local business owners say that the new year is shaping up well.

"We're looking at a pretty good first and second quarter. If a couple deals pop, and it looks like they might, we will be full through the second quarter' said Christopher Ursitti, co-owner of Los Angeles Center Studios, a downtown facility. 'This year is better than last and next year is looking like it might be busier."

Kathleen Milnes, a spokeswoman for the EIDC, said that besides a number of big features there has been a proliferation of new television programs for cable networks. "We have maybe 32 TV shows filming on the streets, which is a lot of production," Milnes said.

But Dale Duko, studio manager for Century Studio Corp. in Culver City, still says 2003 is filled with uncertainty.

"It's a big question mark," Duko said. "We're full, but there are a couple of big X factors next year: the economy and war with Iraq."

For Snow, the amount of work coming in has been less of an issue than the budgets the company has had to work with.

Media City Sound, which does a lot of cable work for Lifetime, the History Channel and others, might have received $5,000 for work on a half-hour episode two years ago, but the current rate is closer to $4,000, Snow said.

"I get the sense that there will be a lot more stuff coming down next year," he said. "But what they are doing in quantity, the budgets are lower, so it's tricky."