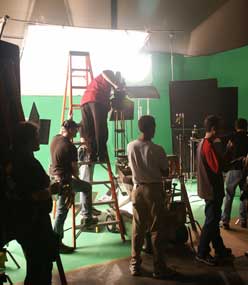 DreamWorks SKG, producer of such box-office hits as "Antz," "The Prince of Egypt," "Chicken Run" and, most recently, "Shrek," is known for employing sophisticated technology in film production. The DreamWorks Animation Studio, a 500,000-square-foot, five-building campus in Glendale, CA, was mainly constructed to support the development and production of animated feature films.

The facility's extensive optical fiber-to-the-desktop network connects more than 1,500 graphics workstations to scores of network servers, allowing end-users to store, retrieve and edit images that ultimately will find their way into a feature-length animated motion picture. To collaborate efficiently on the production of these films, hundreds of computer-graphics specialists must share simultaneous access to a multitude of digitized images. The DreamWorks network connects workstations to servers linked to redundant array of inexpensive disks (RAIDs), where image files are stored. Users employ network file system (NFS) to access these files.

Originally developed by Sun Microsystems, NFS is a client/server architecture that provides remote access to shared file systems across networks. NFS exports directories to the workstations, where they can then be accessed as though they were local, in a high-speed process that is transparent to the user. Production data appear to be resident on the workstation.

Speed is essential with so many graphics specialists working together within tight production schedules, says Surya Denduluri, who manages the systems and networking group for feature animation at DreamWorks Studio.

According to Denduluri, optical fiber has been crucial to the successful operation of the DreamWorks network. "Installing fiber to the desktop supports OC-3 speeds (155 Mbps) for a longer distance than is possible with a typical CAT 5 cable," he says. "These speeds provide quick interactive access to the production data for image creation, modification, rendering and playback-in real time or not. All the production data flows through the fiber, which is critical for production."

To accommodate this enormous information-carrying capacity, DreamWorks uses two parallel networks: the all-fiber ATM (asynchronous transfer mode) network for animation production, and a distributed Fast Ethernet (100 Mbps) fiber/ copper system for business-related applications, such as e-mail.

Workstation outlets include connections for two duplex multimode fiber cables, for production; three Category 5 copper cables, two for data transmission and one for redundancy; one Category 3 copper cable for voice transmission; and one coax cable for closed-circuit television.

The network-cabling infrastructure was designed and installed by Pacific Coast Cabling (Chatsworth, CA), which used Coming Cable Systems cabling, wiring and enclosure products. The backbone is comprised of FREEDM single-mode and multimode optical-fiber cables laid out in a star topology. FREEDM cable is an indoor/outdoor, riser-rated cable that eliminates the need for a transition splice at building entrance points. This capability reduces installation costs by eliminating the material and labor expenses associated with the building entrance transitions.

From a single data center, multicount fiber cables--single-mode cables containing 24 strands of SMF-28 single-mode fiber, and multimode fiber cables of 96, 184, 210 and 266 strands--extend to each of 17 intermediate distribution frames (IDFs), one per floor in all five buildings of the campus.

In the IDFs, desktop connections are completed: copper for the distributed network and two fiber cables for animation production. Fiber-to-the-desk connections are completed with MIC duplex multimode fiber cables--229,000 feet in all. All multimode fiber is 62.5/125-micron graded-index optical fiber spliced through to desktops, producing direct connections between the data center and individual workstations.

To further simplify and streamline the cabling design, Pacific Coast Cabling employed separate racks for single-mode and multimode fiber cables in the data center, using closet distribution frames (CDFs) from Coming's LANscape structured cabling system. This design included a single CDF for all single-mode cable terminations and five CDFs--one for each building--for multimode cables.

Production links, which operate at 155 Mbps, demanded a centralized network of dedicated fiber connections, with servers patched directly to individual workstations with multimode fiber. These dedicated fiber links support the required high speeds over long distances, and they provide a scalable, reliable transport medium as the bandwidth demands grow.

The centralized optical-fiber design offers many other benefits, as well. Consolidating network electronics, cross connects and servers in a single data center greatly simplifies network management and allows for simple implementation of various network applications. Perhaps most significantly, the centralized optical-fiber cabling design streamlines installation, simplifies maintenance and lowers overall costs.

Replacing ATM with Gigabit Ethernet on the optical-fiber centralized network has been a conversion brought about not only by bandwidth demand but also by a planned change to the Linux operating system. Plans for the network also include the addition of storage area networks, or SANs. With an extensive optical-fiber network in place, DreamWorks Studio is able to significantly accelerate production and shorten the valuable time required to bring an idea from storyboard to movie screen.