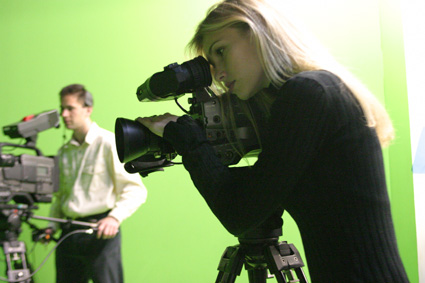 The local entertainment industry has been hammered by the slow economy, outside competition and lingering security concerns. There is neighborhood opposition and longstanding complaints about the high cost of doing business. Jobs have been lost and runaway production is becoming a part of the everyday vernacular.
Los Angeles? Uh no, that would be New York.
Pick a reason--there seem to be many--but the city and state of New York have seen a decline in entertainment production since the terrorist attacks of Sept. 11, 2001 that appears to be far worse than anything experienced in Los Angeles during the same period.
Both cities have had job losses and a drop in overall production in recent years, but while Los Angeles has seen things return to near-normal levels, New York has yet to show a similar rebound.
"It's been tough. We've all lost work," said Patricia Danziger, a veteran New York-based freelance commercial producer who was on her way to Los Angeles last week to shoot a spot for Burger King. "There have been some positives, but across the board New York is really hurting."
The number of entertainment production jobs in New York City dipped by nearly 25 percent, to 35,700, in the first six months of 2003 compared with the same period in 2001, according to the New York Department of Labor. And that doesn't include ancillary services, like catering firms, that depend on the industry.
On-location shooting days in New York, while expected to rebound this year from 2002 levels, are still believed to be well below the 18,096 days recorded in 2001, the last year for which the Mayor's Office of Film, Theatre and Broadcasting has released data. The 2001 total was down steeply from a high of more than 23,800 location production days in 1998.
By comparison, Los Angeles County has hosted more than 28,700 on-location shooting days through the first eight months of 2003, putting it on track for its best year since 1997.
L.A.'s film and television-related employment has declined since 1999, but it is expected to bounce back a bit this year, according to the Los Angeles County Economic Development Corp.
Close to home
How much L.A. is actually taking from New York is unclear, though there are signs of some shift.
"It's expensive to take a series out of town," said Kathleen Milnes, vice president of the Entertainment Industry Development Corp. "This is where the decisions are being made and that always helps."
The calculation of location days, a single day of shooting at specific location, doesn't take into account filming done in studios and pre- and post-production work, but it is an indicator of the pace of filming in a region, and the pace in New York hasn't been brisk.
"Obviously we had a very sharp drop (in employment) in the fourth quarter of 2001. Things started to pick up in early 2002 because of a possibility of a strike, but then it dropped off again," said James Brown, a labor market analyst with the New York State Department of Labor. "Shooting days have gone up this year. But you've got a situation where whole crews are coming from Los Angeles, so the local employment isn't there."
New York is the nation's second biggest production center behind Los Angeles, with the filming of movies, television programs and commercials representing a $5 billion industry, according to a 2001 study by the Boston Consulting Group.
But Katherine Oliver, commissioner of the Mayor's Film Office in New York, said there hasn't been enough appreciation for the role the industry plays in the local economy.
"In L.A., people understand the importance of entertainment," she said. "But in New York there is a lot of big business and there is a lack of education about the role it plays in our economy."
Oliver was in Los Angeles last week--her seventh trip west since taking the commissioner's post in August 2002--pitching the city to the studios.
"I am astounded by the preconceived notions I hear when I'm out here," Oliver said. "People think New York is expensive, that it's difficult to get things done. I have to change that perception."
Danziger, the New York-based producer, credits Oliver's agency for taking steps to make filming friendlier in New York, but some things are beyond its control. Parking, for example, is such a problem that productions regularly hire people to grab parking spots days ahead of time and stay there until the trucks roll in, she said.
Since 9/11, Los Angeles has solidified its place as the center of the filming world--in part because of a desire by producers to stay home if they can make the budgets pencil out, said Milnes of the EIDC.
Oliver's visit "tells you that they realize the bulk of the business is still here," she said. "It's like that old joke, 'Why do you rob a bank? Because that's where the money is.'"
Location, location
Still, both New York and L.A. suffer the same runaway production problems, thanks to Canada, Australia and South Africa luring productions with tax incentives, rebates and favorable exchange rates.
Of the 24 major studio features in production the week of Sept. 16, three were being filmed in New York, eight were being shot in part or entirely in Los Angeles and 14 were being shot out the country, mostly in Canada, according to the Hollywood Reporter.
One of those, Warner Bros.' "New York Minute" with Mary-Kate and Ashley Olsen, is being shot primarily in Toronto, as was last year's "Rudy Giuliani Story," about the former New York City mayor on USA Network.
Such examples are particularly grating to Oliver. "The goal is to get projects like ('New York Minute') entirely shot in New York," she said.
One bright spot has been a bump in the number of television series. In addition to successful franchises like Wolf Films' three "Law & Order" shows on NBC, HBO's "The Sopranos" and "Sex in the City," "Whoopi," a new show starting Whoopi Goldberg on NBC, and "Hope & Faith," a new ABC sitcom, are being filmed in New York. There has also been a big increase in reality programs, Oliver said.
Television production has also been a strength in Los Angeles this year, where a record 130 pilots were shot this season, said Milnes.
One area in which New York has seen more improvement than Los Angeles is television commercials. Just as more television series have been staying close to L.A.-based studios and production companies, New York-based advertisers have tended to keep production close to home.
"The numbers are improving but they are not where we want them to be," said Oliver. "New York is all about locations, whether it's the Empire State Building, the Plaza Hotel or a busy street. That's something that can't be replicated anywhere else and that's why we are different from L.A."