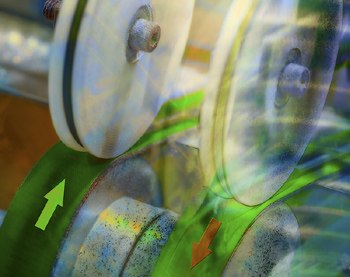 Sling Blade Producers Plan 30-Acre Facility.

NEW YORK - Plans to build a large film production studio with huge soundstages minutes from Manhattan in Harrison, N.J., were announced last week by The Shooting Gallery (TSG), New York, which produced the 1997 Academy Award-winning film Sling Blade.

According to TSG CEO Larry Meistrich, the 30-acre site will provide full-service film production studios, which are being designed to accommodate both feature and commercial production needs.

Acknowledging that the commercial production business is a significant part of the New York filmmaking industry, Meistrich said, "We definitely want the commercial business to come out there, and the way we're approaching it is by building stages that are big enough for car shoots and possibly an outdoor cyc, which would be helpful for the commercial industry." He said the company understands that the advertising business requires strong client service abilities and he explained, "We're designing it to be like a film hotel with a heavy emphasis on the service business feel that I know is important to the commercial business, which needs to have its clients comfortable and well taken care of."

Work is expected to begin on the $75-$100 million project in Harrison (next to Newark) in March. The site will make use of the 400,000 square feet of existing buildings in the former industrial park, including 250,000 square feet of column-free space with 75-foot ceilings.

Meistrich said, "The decision to proceed with this project comes from our company's commitment to East Coast filmmaking and the overall demand that expanded production has created for such a facility in this part of the country." He said the project is also the next stage of business development for TSG's production services subsidiary, GunFor-Hire.

Meistrich said he does not believe the project will hurt the business of the existing studios in New York like Silvercup Studios, Kaufman Astoria Studios and Chelsea Piers, but will instead compete with Los Angeles, which has 400 studios compared to New York's 30. "The idea is not to compete with what exists here in New York but to compete with L.A. and give producers on the East Coast the same type of facilities as on the West Coast. I believe the talent wants to be here since New York is a more interesting place to live," said Meistrich. He claimed a constant complaint of filmmakers in New York is the lack of adequate studio facilities. "There's an obvious need when you see a $100-million Brad Pitt movie being shot in an armory in Brooklyn where they ran into lots of problems," he remarked.

While an architect and builder is yet to be named, preliminary studio plans call for 15 individual soundstages, including a 100,000-square-foot stage. Meistrich says this stage will be the largest in North America, far bigger than Warner Bros.' 36,000-square-foot studio in Los Angeles that he says is now the biggest in the U.S.

The studio is being designed to meet the needs of major studios, independent filmmakers and commercial and music video production. In addition to the soundstages, an extensive backlot with period streets and stock sets including a subway, hospital, prison and courtroom will be built. Production offices, insert stages, preproduction and television facilities are also planned for the site, which is near Newark's new Performing Arts Center and linked by nearby mass transit to Manhattan.

The studio plans to provide all ancillary services such as catering, building supplies and other film production needs, as well as a theme restaurant and possibly a tourist-attraction element.

The former Joe Supor Industrial Park is being leased for 50 years by TSG for an undisclosed sum from the owner, Joseph Supor, a trucking company owner, who will have a financial interest in the studio project. The studio is being privately financed through Stone Pine Capital of Morristown, N.J.

When questioned about rumors that TSG was considering opening a commercial production division, Meistrich said, "We're circling the airport on that ... it's kind of hard to break in and we haven't figured a way to crack that yet ... but if the right opportunity came along, we would pull the trigger on it."