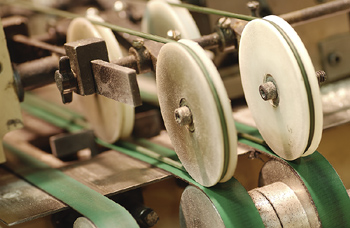 Film biz trickles out of town, and a partnership fights to get it back.

They sorely miss Ed Stamm in Atlanta. For years Stamm was a fixture at Victor Duncan, a popular Atlanta equipment rental house acquired by Panavision two years ago.

Walk into the Panavision dealership any time of day and there would be Stamm, the general manager, arguing with a first assistant cameraman about the best lens to use to capture the glow of moonlight reflecting off a Georgia swamp. ACs who want to talk lenses with Stamm these days have to dial area code 407 for Orlando, because Stamm isn't in Georgia any more.

Panavision closed its doors this past March and transferred him out. There simply wasn't enough business to justify keeping the shop open.

"It's strictly a bottom-line decision," Stamm told SHOOT as he packed for the move to Florida, leaving a behind a city that - in terms of production - has everything going for it.

In Atlanta, studio space is plentiful and cheap. The city boasts some of the largest soundstages in the Southeast. The post and support services are first-rate. Panavision may be gone, but Atlanta still has three full-service rental houses. Crawford Production Services just opened the city's second film processing lab. In addition to Crawford, Atlanta supports several other top-of-the-line video post and special effects shops. And yet, over the years, Atlanta has suffered some serious film flight - telefilms, feature films and spots moving out of state, or staying away altogether.

To stem the tide, local film and commercial companies have joined forces in a private lobby and support organization called the Atlanta Production Partnership (APP). Their goal is to compete more aggressively against other states for shoots. The group was formed just over a year ago, well before the Panavision pullout, and it has been making some headway.

But the Victor Duncan closing has rocked the film and spot community here like no event has in years. Not so much because of the loss of local access to the Cadillac of cameras - Atlanta still has three thriving rental houses - but more for what it says about the current state of the state's film industry. It ain't what it used to be. What makes Panavision's pullout sting even worse is that the branch across the border in Wilmington, N.C., remains open for business.

This wasn't in the script. Five years ago the skies in Georgia used to be almost as sunny as they are in California. The state ranked third behind California and New York in location shoots, thanks largely to aggressive self-promotion. Georgia-whose production center is Atlanta-was one of the first states to establish a film office charged with luring Hollywood productions and commercials with southern hospitality and varied topography. It worked beautifully. Since its inception in 1973, the Georgia Film Office tracked 385 Hollywood shoots that dropped an estimated $2.4 billion into the local economy.

Nobody really knows what Georgia's ranking is today (the polls aren't out yet), but they do know that it is much lower. Some say North Carolina is in third place now. What they do know, however, is that what's good for the film business in Georgia is good for the spot business, and what's bad for film hurts spots.

Overcast Skies

For a regional film and commercial market to flourish outside of California, four types of shoots need to occur: long-form TV, such as movies of the week, industrials, features and TV spots.

Television, in the form of MOWs and specials, is the meat, the main course. The shoots are long, and the production companies hire more locals and rent more equipment from regional suppliers than they do for spots and features. Industrials are the potatoes, a necessary staple to fill out the menu. Features are the gravy; they have prestige and come with hefty paychecks. Local crews pick up tricks and skills from their visiting L.A. brethren on features because budgets, talent and time exists to experiment. Commercial shoots are the bread and butter of any significant regional market.

Unfortunately, the Atlanta table is a little bare these days. Meat, for one, is scarce. MOW production has decreased markedly from the salad days of the '80s and early '90s, when the MOWs helped build and support an infrastructure of equipment rental houses, studio space, crews and actors, and post facilities.

As a result, the crew base is experienced, deep and competent. "I'd match our crews against any anywhere in the country," claims John McCorkle, owner/executive producer of Fireside Productions. "They're that good."

The market for industrials has been off for years. Coca-Cola, Bell South, Delta Airlines and Georgia Pacific were the major local clients in this format, which includes corporate image, training, sales incentive and public service videos. These jobs were done largely by outside companies, but then were later pulled inhouse in cost-cutting moves in the late '80s. Finally, by 1993, most of the in-house video operations were downsized or eliminated.

Music videos have taken up some of the slack left by the gradual meltdown of the industrials market. Torre points to the thriving pop music scenes in Atlanta and nearby Athens and the music videos they are bringing to town as a bright spot.

Feature work slowed down as well, reviving only last year after a fallow period, thanks largely to Hollywood's discovery of the charms of Savannah for The Gingerbread Man and Midnight in the Garden of Good and Evil. Georgia hosted nine features (for a total of 13 location shoots) in 1997, after a dismal '96 when only two productions (part of a total of 10 shoots) paid the state a visit.

Not surprisingly, commercial production is in a bit of a funk. No one tracks the number of spot shoots, but veteran players say the market is off. "It's slow everywhere," claims McCorkle. "That's what producers around the country are telling me, unless they're lying to make me feel good. Atlanta is very soft so far this year. I don't know why. It's one of those cyclical things."

Others don't believe it is cyclical. They are of the opinion that the slowdown in commercials has direct correspondence to the loss of MOW and feature productions, which is causing crews and vendors to drift out of town, depleting the infrastructure, a process that began in the early '90s.

Stormy Monday

Why did the clouds darken for production in Georgia? The easy - and too simple - answer is to blame it on the unions. The Teamsters and the International Alliance of Theatrical Stage Employees (I.A.T.S.E.) fought several vicious pitched battles on a number of shoots in the early '90s that left a bitter taste in several Hollywood mouths. Producers accustomed to docile local hires found their shows picketed by newly unionized crews and deluged by a blizzard of labor grievance filings. Georgia received serious badmouthing on the coast as a result and the number of shoots coming in fell off dramatically.

Norm Bielowicz, who retired last fall after 20 years at the State Film Office, 15 of them as the director of the office, says, "[Jobs were] mismanaged badly for a period of time. There was a sense that producers were evil people and needed to be held to a set of guidelines that was unreasonable. Frankly, [crews] were getting older and raising families. There was a desire for higher wages and better working conditions, and they [crews and craft] wanted the comfort level of a union organization to take those issues to the producers."

From I.A.T.S.E.'s perspective, on more than a few occasions production managers interested in earning a bonus for coming in under budget tried to do it on the paychecks of local crew and craft workers.

"It wasn't all us," says Hilary Henkin, business representative for Local 479, the Atlanta I.A.T.S.E. local. "From my perspective we had some producers who weren't abiding by their contracts. When we caught them, instead of being men and doing what was right, they ran around screaming and blaming us for being bad people.... Then the producers ran back to L.A. and said blah, blah, blah ... Georgia. You can't shoot there."

For their part, the Teamsters readily admit to wearing black hats at that time. "We had a tremendous adversarial relationship then. Our reps thought they could obtain anything they wanted and went to war to get it," recalls Richard Black, the recently installed secretary treasurer/business representative for the Teamsters.

Realizing they had a problem, the Teamsters swept out the old regime and put Black in charge in January 1997. "We had a constant stream of labor charges and grievances filed against us by producers. January a year ago I started working with the attorneys and IBT [International Brotherhood of Teamsters] to straighten things out, and they've worked out well," Black explains.